New Zealand Organ Association - Name Change
In June 2015, the New Zealand Association of Organists voted to change its name to New Zealand Organ Association.
This change was made to more accurately reflect the membership and goals of the association. Many of our members and potential members are not organists. Some are enthusiasts but not players, some are interested primarily in the music, some in the instrument, and some are organbuilders. The new name is inclusive of all these.
Over the course of the next year or so the association will be in transition to the new name, so many references exist on this website and elsewhere to the former name, the acronym NZAO, and the trading name ORGANZ.
.
Welcome to New Zealand Organ Association
The New Zealand Organ Association Inc.
We welcome anyone with an interest in the organ, whether a player or not, to join one of the regional organ/organists' associations in Auckland, Wellington, Nelson, Christchurch and Otago-Southland. (There are also local organ groups in the Manawatu and Waikato.) The regional associations will link you into the organ community in your own area. It is also possible to join the national body (New Zealand Organ Association) directly.
This website contains a range of news and information for everyone with an interest in the organ in New Zealand and items are being added all the time. Visit it regularly to keep up with developments, such as news from the organ world, upcoming concerts and events such as our national Congress, held each year during Queen's Birthday Weekend.
Use the links on this page to contact the Regional or National Secretaries for details. Many of the menu items at left expand when clicked to show more pages under the general headings.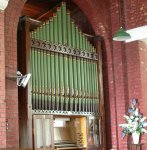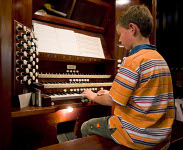 .