Sydney Organ Competition
The Organ Music Society of Sydney (Sydney Chapter of the AGO) has launched a "Sydney Organ Competition" - 7 October 2013
Details and entries on www.omss.org.au, and then click on the competition link.
All entries and payments are on-line.
It is hoped many young organists will participate in this exciting event!
There are Junior and Intermediate sections. Prizes $500 to $1500.
Closing date for entry 9th September 2013
ORGANZ is off to Australia!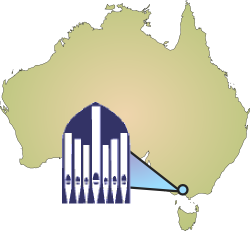 You are invited to the
ORGANZ Congress 2013
1-3-June
Melbourne, Australia
Breaking with tradition the New Zealand Association of Organists (ORGANZ) is this year holding its "National" Congress in Australia.
Public events include:
The German Trio Sonata (Latitude 37, Saturday afternoon)
The Art of Fugue (Indra Hughes, Saturday evening)
Congress Town Hall Recital (Thomas Heywood, Sunday afternoon)
Dance Organ at Whakatane
Over Anniversary Weekend some may have heard fairground organ music wafting over Whakatane.  This was the signal that the Dance Organ was open for people to try their fancy footwork.  Well over one hundred people enjoyed the Dance Organ over Anniversary Weekend and many of them had a play.
The organiser, Warner Haldane said; "I'm very pleased with the way that a wide range of people have played the Dance Organ.  Sometimes they are a bit shy at first, but when they see other having fun they want to have a go.  There is a great deal of hilarity. Some people have stayed for the whole two hours, having several turns."
Before the public had an opportunity to play, the Dance Organ was demonstrated by teams drawn from Liam Bewley, Jan Elrick, Vanessa Hamman, Jacob Jensen, Leo Read, Sophia van der Gulik, Carlo Waghorn and Amy Williamson.
Visitors also took time to look at the exhibits on the construction of the organ as well as view the presentation about its history.
Some of the visitors with keyboard skills also enjoyed the opportunity of playing the two-manual and pedal digital organ, which was also on site.
The Dance Organ was installed next door to the Whakatane Beacon in Pyne Street from 5 to 7 pm until Friday 1 February and then from 3 to 5 pm on the following Saturday and Sunday. 
It is now returned to the Auckland Organists' Association, where it is available for loan. Inquiries to This email address is being protected from spambots. You need JavaScript enabled to view it.  
(Leo Read demonstrating the Dance Organ - photo: W Haldane)